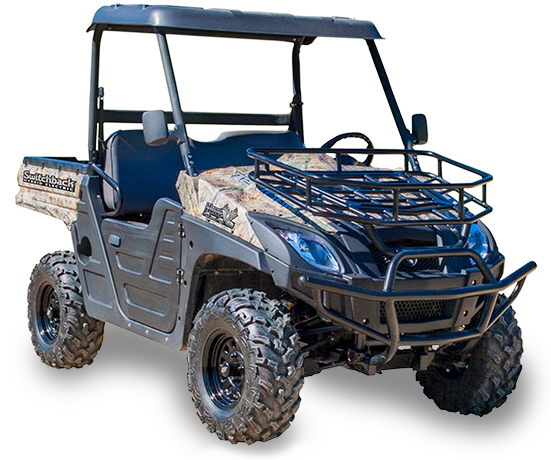 HuntVe Switchback™ 4×4 Hybrid Electric
Every once in a while something truly innovative comes along. Well, nothing spells innovative for the outdoor driving experience like the all new HuntVe™ 4×4 Hybrid Switchback™. Combining the silent, scentless and smooth power of an electric 4×4 with the gas extending range of a specially engineered embedded run quite generator, an off road driving experience without limits has been created. Featuring dual direct drive motors – 38 HP (no chains, drive belts, etc.) with the front and rear double wishbone smooth suspension, expect a range of 80+ miles combining electric and gas power sources.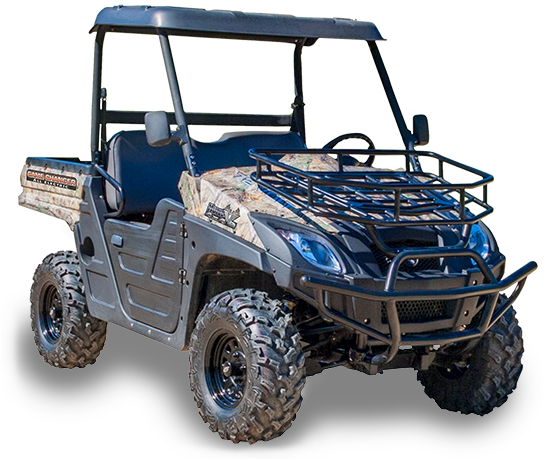 HuntVe Game Changer™ 4×4 All Electric
The all new HuntVe 4×4 Game Changer™ is the planet's most dynamic electric 4×4 UTV. With dual direct drive motors, no single motor electric UTV can compete with the smooth power that comes from this 72 volt stealth machine. Forget for a moment the fact that the 38 HP available is more torque than almost all gasoline powered UTVs have in this size category – the ride of the double wishbone 4-wheel independent suspension, 1200 lb hauling capacity and the best in class off road range combines to create the ultimate driving machine.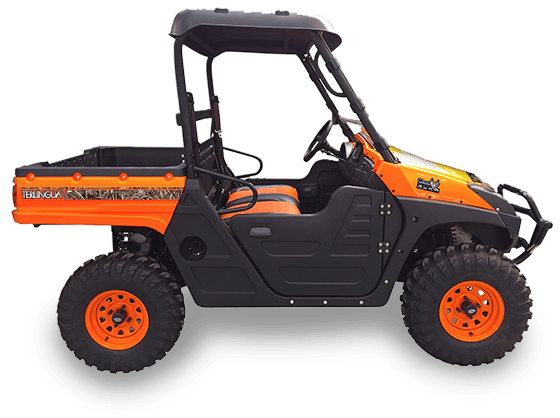 Terlingua™ 4×4 All Electric
New from the HuntVe line up of electric and hybrid/electric 4×4 UTVs is the spiced up Limited Edition Terlingua 4×4. Featuring a 72 volt high-performance electric system and dual motor technology, the all electric Terlingua is built to get you where you are going – the fun way! The performance of the Terlingua has also been boosted with highest output motor combination (40 HP) in the HuntVe lineup yet. Its 4 wheel independent suspension, 25" 6-ply tires, and optional electronic power steering makes this the most powerful, stealth, and performance driven alternative fuel side by side made.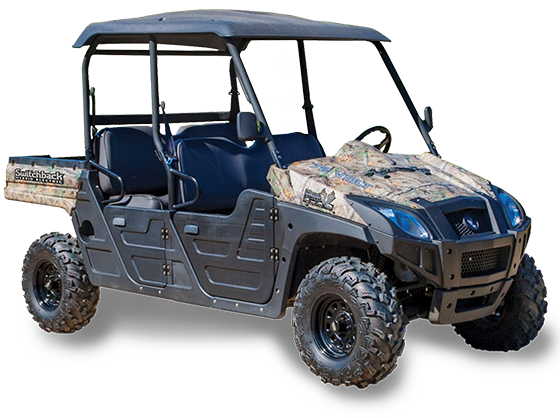 HuntVe Switchback™ 4×4 Crew Hybrid – Electric
Here is the ultimate way to enjoy the outdoors. Seating for four and room for cargo too – there is no compromise with the clean, silent, scentless power of the Switchback 4×4 Crew. And when your batteries run low, start the exclusive range extending 460cc gas run quiet generator with the touch of a button. This HuntVe breaths the outdoors. Its smooth and powerful performance sets the standard for premium off road electric UTVs.
Learn more about the HuntVe Switchback™ 4×4 Crew Hybrid – Electric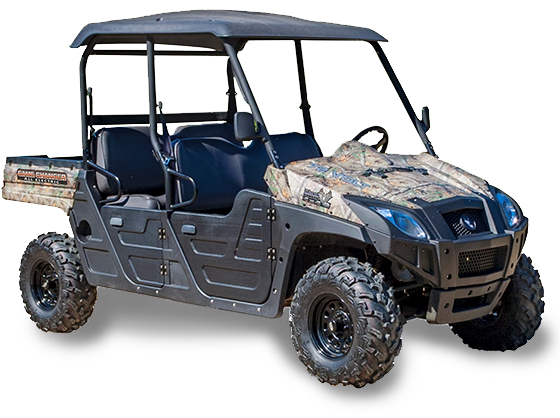 HuntVe Game Changer™ 4×4 Crew All Electric
Get ready to roll! The Game Changer™ 4×4 Crew has the industries best power and range – not to mention the 4-wheel independent smooth ride suspension. This is sporting luxury. With dual direct drive motors (38 HP), there is not a drive shaft, belt or chain to make unnecessary noise while exploring the outdoors. Made in the USA, nothing matches the quality and ingenuity of HuntVe. The Game Changer 4×4 Crew has seating for 4 as well as a power dump cargo bed.
Learn more about the HuntVe Game Changer™ 4×4 Crew All Electric